Hey Guys , its MMJ
INTRODUCTION:
Just like to show my appreciation on GAM and share what I have learned on my longest journey of over 20 years now the Recording Process may be one of the most difficult things and I feel that I have unlocked its secrets in a scientific way I am going to break this down for you in a digestible way in regular language and where you can get finished mastered results that are on par with the hottest albums coming out in 2016.
This Course is going to be teaching you entirely In the Box which means with a computer and interface using digital recording . With the newest vst and tools available you can easily achieve recordings as good as multi-million dollar studios. but in order to be able to do that you have to have an understanding of what vintage analog equipment does to the audio signal in order to re-create those same effects digitally .
ANALOG RECORDING
----------------------------------------------------
In the Beginning was Analog . the Iron of transformers the syrupy richness of tubes and tape the hand wired goodness of orange capacitors and thick resistors with stripes and the high voltage running through them. fat sounds coming from harmonics just like a good guitar tone it gets fattened and smoothed lightly compressed thick and syrupy while being defined and tight at the same time this what we are going to re-create in the box the best of the past with the tech and ease of use of the future.
In order to succeed at the en-devour of recreating these characteristics in the digital domain you have to know what each one of these things does to the audio signal so that we can re-create the same thing manually digitally , and even though it may seem difficult after a while when you know your shit it is only a matter of stacking plugins easy as that, so don't get discouraged you are going to be able to make recordings as good as anyone can .
https://en.wikipedia.org/wiki/Analog_recording
http://www.soundonsound.com/techniques/analogue-warmth
CHAPTER I:
---------------------
IN THE BOX ITB DIGITAL RECORDING
---------------------------------------------------
In order to actually keep this simple terms , lets start with what we don't want in our sound during mixing when we are altering the tracks.
we never want to throw a plugin on our track and have it raspy harsh brittle static like rough around the edges . we never want to throw a precise digital EQ on a clean, fresh recorded vocal or drum track and start carving deep holes out whether wide or skinny bandwidth or adding in eq that way. We never want to through a transparent compressor on a freshly recorded bass drum track set it to 4:1 with 10ms attack and 150 ms decay and crank the threshold way back until we get kick drum hits that sound like flicking pieces of construction paper with your finger. why not? what is it about these things that are bad or that is giving us bad results? well, i think most of us can recognize the same thing with guitar tone. picture a dude taking a pristine clean solid state jazz chorus like amp with cabinet almost like studio monitors and putting a big muff distortion or fuzz on it and then in the tone stack cranking the treble and bass control then putting a mic on the cap of the speaker cabinet. what is at play here?
the magic is in the transient! the consonants of vocals the click of bass drum the pick of guitar tone the snap of bass string the crack of snare drum. we want to achieve a sound that is smooth and equal loudness across our whole track not highlighting the click raspy transients to be hyper defined in such a way as to make the sustained vowels of a singing vocal track buried down quieter . or a bass drum hit entirely click with no fat bass or a guitar track that is all pick noise. we never want to use a vst in such a way as to create more variance in raspiness or have our transients all over the place looking at our waveform view. We want clear tight definition in the way a fender twin delivers on clean guitar tone smooth and buttery what is it doing that? how do we apply that same method to all of our tracks?
A. HARMONICS
-----------------------------
please begin by reading these links to familiarize yourself with harmonics so that we can cut many years down into a way for your recordings to get the quickest results.
https://en.wikipedia.org/wiki/Harmonic
https://rhordijk.home.xs4all.nl/G2Pages ... ortion.htm
We have a Goal to achieve in recording and in this course. we want to make our recordings as clear and precise to the ear as possible while being fat smooth warm yet crisp clear and defined that means our actual waveform of the individual track in question needs to be averaged out in detail the same loudness throughout no large spikes no large difference between the transient and the sustained part of sound no large variances in attack , and also no thin harsh areas in the singers consonants or the guitars pick noise or the hard crash of a cymbal we want the clarity and crispness combined with how our ears work averaging the sound vibrations over time a smoothness and fatness we want the transients to be as thick as the sustained not tiny needle pin pricks of sounds laid over top of the sustained part of the sound this means using harmonics in such a way as analog equipment does or in other terms the way a decent guitar amp does to guitar that syrupy chewy yet accurate and tight goodness we all know and love, we want to re-create what a tube eq or a transformer of a Neve desk or a tape machine does we want to have the best of the best in terms of detail , while at the same time giving a sense of uniformity smoothness fatness richness.
Thank GOD it is 2016! this is easliy achievable in 2016!
Analog modeling vst do not fully capture the essence of the original piece in its entirety. because of this we have to break down what the original analog equipment does to the sound ,break down what our vst does to the sound and simply add multiple vst that each do something subtle.This is the secret to perfect recordings. Each plugin you add is subtle ,but the chain adds up (just like how analog gear works.) Imagine ,one digital compressor added to a freshly recorded clean vocal track with no processing and cranked to the extreme. It is artificial, over exaggerated ,fake and harsh sounding with the waveform mangled all over the place clearly visible in the waveform view. Now compare this to a whole stack of vst that each doing something barely audible but as they stack up they are each ironing out the wrinkles so to speak, as if you went in and adjusted each little part of the waveform that was strange. this is the secret and it is a simple one.
B. USE your EYES .........AND your EARS!
-----------------------------------------------------------
To actually achieve our Goal in recording we must use every tool at our disposal. you would not drive on the highway in a thunderstorm with a blindfold on!
You need speakers you know well .You need a DAW your used to using ,You need to have a visual of all your meters. You need to have a visual of the frequency response spectrum for each track (or master). you need a visual of the stereo response of each track (solo'd on master) you need plugins to do each step of the process that you know and are comfortable with.
(my general guidelines, break them whenever you have to)
1. METERS.
---------------
You need to have an understanding of your meters and how to use them when tracking and then mixing set your peaks on individual tracks well below clipping. (All your tracks add up on the master meters) this means peaks -18 db on peak meter for individual tracks so that when 20 tracks add up on the master fader meter it is well below clipping . also do this in between vst make sure your not clipping from one output of a vst to another input of vst (don't have to lower that much just not clipping from one vst to another)
2. Spectrum Analyzer
--------------------------
This goes hand and hand with meters it is a visual graph in real-time of your frequency response of solo'd track or entire mix BEFORE it gets to your speakers (that color the sound) as you get more and more used to the spectrum analyzer you only need to glance at it a few times the whole mix start by listening to whole albums while looking at it see what it actually does for you to have visual of bass mid and treble and how fast the transients are acting in the mix.
Pink noise is our reference point for individual tracks as well as our complete mix because pink noise means equal energy per octave you can open and track off a CD or MP3 or FLAC etc. onto a track in your DAW put a spectrum analyzer on your master fader and compare that visual of the final mastered track to this graph of pink noise (equal energy per octave) in order to see how any differences affect the perception of the mix
C. Gain staging
----------------------
while tracking or if you already have the tracks make sure your far from clipping the input stages of the recording interface - console
once you have your tracks you want to setup your gain staging. This means dealing with your meters in such a way as to not clip the master output into red i usually adjust for ample headroom on dry tracks and as you add in vst such as recording desks tape and other transformer tube tape transistor based analog smoothing harmonics, re-adjust your gain staging after adding in so that the output of you individual track or buss is around -12db to -18db Rms there is room or play here depending on the number of tracks and dynamics or crest factor of mix.
The other Important aspect of gain staging is the volume level hitting a vst or unit and its output level that will hit the next one there is a balance that comes with time just remember not to clip it and in our case we want to solo the before and after each vst to make the difference as subtle as possible to accumulate a fatness richness in our transients and even partially compression because of the fattening effect it has on the tone during mixing.
D. Compression
-------------------------
I am going to put compression before EQ here regarding adjustments individual tracks reason being you want to build up strong harmonic content to get a round fat tone on transients within each track (using ears to make sure no actual distortion or clipping is happening) BEFORE compression and last EQ .Remember we are re-creating the warmth of analog gear here, (as always break these rules when you must)
For Compression the individual settings on a compressor depends on the actual content itself i will give you some guidelines
use a LOW ratio. highest ever being 3:1 lowest 1:5:1
attack settings never lower than 30 ms but usually around 80ms to 100 ms or so
release mostly around 100ms to 200ms but it depends on the speed on the music and the individual track
a threshold level which your compressing no more than 2.5 db reason being we want the small strategic adjustments of each vst or unit to add up to be the overall smooth dramatic mix that the inner details get ironed out tiny increments at a time like the way real gear works. we dont want to dramatically alter the sound of the track or mix per vst or unit .
you can stack different type of compression each shaving off 1 to 2.5 db with different settings AFTER a harmonic content has been built up from analog modeling using transformer tube transistor and tape vst or units.
E. EQ
--------------
First we set our track levels using meters around 18db to -12 db on average per track , then we built up harmonic content with tube tranny tape sat vst, next we added compression smoothing out some dynamics retaining clear transients with smooth buttery warmth. NOW we add in EQ and using our master fader spectrum analyzer like Fab-filter PRO q 2 AND SOLOING the track we can compare it to pink noise profile of equal energy per octave a very general guideline for the final mix. we can use EQ to adjust individual tracks alternating between the soloed track and within the context of the mix in order to hear and see what needs to be adjusted.
as far as the specifics of EQ adjustment in this order of the chained events here are some general guidelines.
Vocals -----after building up the previous chain of units or vst discussed and we arrive at the point of EQing , our vocals transients should be tamed quite a bit meaning fat round smoothed rich buttery while being fast and clear also we may sometimes need to remove energy around 10khz to 20khz with broad strokes removes energy below 180hz with broad strokes and remove a small chunk around 600hz to 650 hz with a slightly higher Q or refined shape say - 3db.
Guitar------after building up the previous chain of units or vst discussed and we arrive at the point of EQ'ing the guitar's miced output of cabinet we sometimes want to remove some of the energy above 6khz with broad stroke (use ear) some of the energy below 100 hz with broad stroke and possibly and higher q around 400hz to 450 hz by a couple db.
Bass-----after building up the previous chain of units or vst discussed and we arrive at the point of EQ'ing the Bass'es mic'ed output of cabinet, we sometimes want to remove some of the energy above 12khz with broad stroke as well as removing some energy below 80hz broad stroke if too much rumble exists. finally sometimes adding in energy around 2khz to 3khz with couple db can push the bass forward a little bit.
DRUM BUSS------- Lets assume you have adjusted the individual drums to ear possibly not needing to with modern drum vst or if using real kit adjusted levels and EQ using your ears this is not very difficult. (except for certain genres like death metal or prog drums) Now you are ready to do some EQ on the whole chain. you can slightly reduce the energy from 10khz up if cymbals to shrill, you can remove from 40hz below if bass kicks too much rumble. you can raise broad stroke around 1khz by couple DB to bring drums into front more.
F. DEPTH or SPACIOUSNESS of mix
------------------------------------------
First we set our track levels using meters around 18db to -12 db on average per track , then we built up harmonic content with tube tranny tape sat vst, next we added compression smoothing out some dynamics retaining clear transients with smooth buttery warmth. Then we used EQ with mostly broad stokes to shape our tracks to fit together and throughout the process re-adjusted our volume levels so we have headroom at the master fader lets say never exceeding -6db on peaks with the whole mix. Now we want to add depth there are a few tools to do this First is our EQ we can remove some energy above 10khz on a track while adjusting its overall volume to push it into the background or raise it to push forward. we can pan to create width we can adjust from 200hz to 500hz on a track to adjust the perception of height and punch and thickness overall.
Next, we can use reverb or delay these are divided into 2 categories. For practical use, a quick delay or reverb that defined the space directly surrounding the sound (early reflections) and a long delay or reverb tail that defines how far away the sound perception travels .
you can either use one reverb that does both well or one of each or multiple delays and reverbs stacked. The key here is subtly . of course use your ears i suggest alternating between solo'd track with effect on and off and making it barely audible that means the reverb or delay around -18 to 20db quieter than regular sound start there . we want it to barely be noticeable, not over exaggerated . feel free follow this process and stack as many as needed each subtle but doing a specific task required.
next we can look at information about our human hearing called ,head related transfer function that shows us the change in frequency response (bass mids and highs ,shape of sound) depending on the position of the sound related to our ears for example behind us above below etc.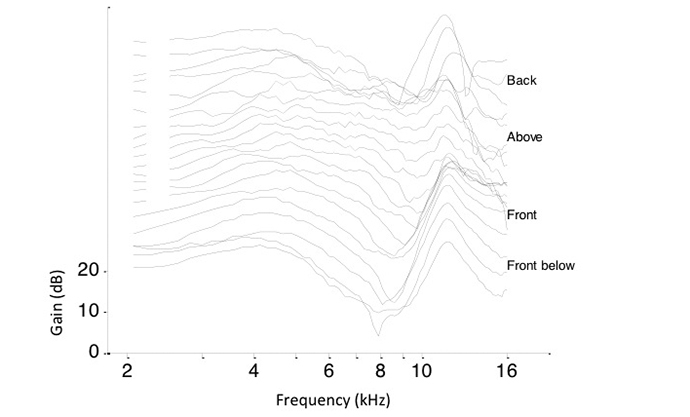 http://www.sfu.ca/sonic-studio/handbook ... aring.html
http://mat.ucsb.edu/240/D/notes/Binuara ... 20IRs.html
now we use this information in the way described to add depth and spaciousness to our mix , using EQ with head related transfer function or HRTF combined with the delay and reverb types discussed earlier.
G. LIMITING
-----------------
After the process of adding depth to our tracks and mix we can add more analog modeling units or vst such as buss or track inserts recording console , tubes of pre-amp the transformers in mixing console or tape machines using them in such a way as to barely be audible in A to B comparison of on and off both solo;d and in the context of the whole mix . remember this is controlling our peaks and increasing the overall volume of these tracks smoothing out and thickening the transients just make sure it is not so drastic per vst or unit as to sound blatant or obvious crunchy or static or raspy .You may even want to add another layer of compressors just kissing the transients at 1.5:1 or 2:1 ratio and attack of 100ms decay of 250 ms to level out perception of volume.
Once you are happy with the steps you can get into Limiting for each track if you feel there is even a need. Many times it is not even needed , But if you find there is still too much dynamic change within the music you can use subtle limiting being very careful to not impose an unpleasant sound and re-adjusting track volumes to each other making sure your mix not exceeding -6db peaks on the master fader.
When using Limiting make sure you are just kissing the transients that jump out from 1 to 2 db above the rest. Add another one if you need to , just makng sure you A to B on to off where the limiters are not destroying your hard work.
you can use GROUPS to add different compressors and subtle harmonics feel free to experiment with this for example GROUP or BUSS all drums and percussion then the rest of music in another GROUP then finally vocals in another GROUP . You can do it as a send so that the group sound blends with the original tracks and add harmonics and compression and limiting and even more reverb or depth but then starting from quiet in tiny increments bring those BUSS volumes up to say -25 DB on the master fader in comparison to your mix volume of -6 db on the master fader.
H: MASTERING
-----------------------
This can get very confusing and more complex than the entire enterprise of mixing, however I want to keep it simple and useful for anyone to do so we are going to refer to MASTERING as adjusting units or vst on our master fader or when we have gotten our mix to the point of just left and right stereo sound and are happy with it, but want to Finalize it. What mastering began as , is very different from what it is in this context.You used to need to get your song ready for vinyl or shellac etc. nowadays it is finalizing the song in terms of clarity and volume and consistency . We can have reference tracks to play through the spectrum analyzer and look at the balance between bass mids and highs in comparison to pink noise (equal energy per octave) . Then we can compare our mix to pink noise ,and to many reference tracks . There is a few things we are listening for and looking for . Visually we are looking for our mix being out of balance on the spectrum analyzer imagine a big large hole around 800hz that is a problem. or say instead imagine the energy of the mix at 10khz is the same as the energy at 100hz on the analyzer this is a problem. As far as audibly , what we are listening for is consistency and anything we dont want like raspy fuzzy harsh tones or sandpaper type effects with the transients we want buttery smooth yet clear and precise tight sound.
the technique.
We want to follow the process that we have been the entire time which is tiny adjustment per vst or UNIT in which this stack up to smooth out our overall sound nothing drastic per unit or vst the trick is to find the units or vst that are essentially useful during the mastering process , a more refined tone units or vst that are more precise but at the same time and make adjustments that are like a fine tooth comb in the areas of broad eq possibly linear phase with modeling of analog gear again even if you have to multiple stick them to recreate the effect. next compression but a more refined compression that acts as glue i cant tell you which particular ones to use you have to make choices but i can help. possibly de-essing during mastering if the highs are all there level wise but just a little too bright. it could be opposite and need more power in the highs so it actually depends on what you did earlier in the mix . the most common step in mastering left is LIMITING at least this day and age.I recommend using a transparent limiter and only shaving off no more than 2db at most and the reason being you can add another one if you need more we want the accumulation to add up but not drastic adjustments per vst or unit.
Find the Newest ,best mixes in your genre and match your work to those using this methodology and and tweaks that come to you naturally. Take this methodology and practice with it many many times and as usual break those rules when you have to.
Please CHECK BACK OFTEN as this will be UPDATED REGULARLY. it is not a script or gimmick, I'm just sharing what i have learned in a way where you too can master this art with no smoke and mirrors